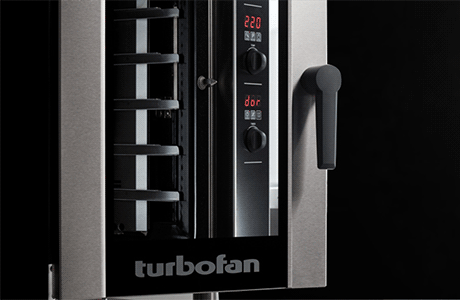 Powerful, versatile, cost-effective and very compact
Highlights
The E33D5 is a high performance convection oven that sits on a compact 24" (610mm) wide footprint and delivers a substantial five half size sheet pan capacity with 31/3" (85mm) tray spacing. The 5 tray model is powerful with the inclusion of the two speed high performance bi-directional reversing fan system. The E33D5 has enhanced cooking capability and it's fast and efficient due to 5.8kW of heating power. The two speed fan also provides you with greater control - the high speed brings the power for maximum heat product penetration and for delicate products low speeds allow delicate products to be baked carefully - bake, roast, cook, or regenerate - it doesn't matter.

The new two speed bi-directional fan has been designed to provide greater performance in baking applications where product uniformity in finish and quality is essential. Easy to use electronic controls with high visibility digital display are standard. An electronic thermostat guarantees reliable heating every time and vitreous enamel oven liners make cleaning up a breeze.

With carefully regulated moisture control even the most difficult of dishes can be kept from drying out. The five-level moisture injection mode of the E33D5 delivers this capability time and time again, and with no drainage required installation is a breeze.
Product loss from shrinkage is limited and so is unnecessary stress – you can rely on succulent results.

A full stainless steel exterior is standard on this model, the safe touch vented side hinged door is available left hinged only. The new pendulum slam shut latching door handle ensures ease of use during busy periods. The E33D5 offers an optional core temperature probe so that products can be cooked / baked to the correct level of doneness each and every time - it's the peace of mind that can make a difference to your operation.